How to avoid misunderstandings?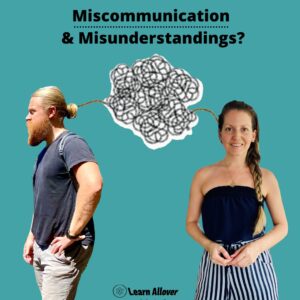 Do you ever leave a conversation realizing that you were the only one talking and you didn't learn anything about the other person? It might happen with a family member, friend or business partner. 
Other times you might feel that others aren't listening to you. That is most likely not due to your missing expertise but to the other person's lack of communication. 
Some people have just never learned to engage in a dialog but live by the motto: If someone wants to say something, they will.
But this is where they're wrong. If you're an introvert, it is being more difficult to make someone stop talking. You want to be polite and let your friend or business partner finish their thoughts, but in the end you won't get a word in; leaving the conversation frustrated and probably not very excited to see that friend again. 
These are the key communication problems and mistakes we all make: 
NOT TRULY LISTENING
Have you heard of Active Listening? The key here is to always answer to what someone has just said. In order to avoid misunderstandings and to make sure you understood their message, you can phrase your answers like a question (e.g. "So you're saying that…?")
ASSUMING YOU KNOW THE MESSAGE BEFORE THE PERSON FINISHES
Be present and give the other person the chance to finish their sentence without assuming you know what they're talking about. There is a chance that you might be wrong. 
INTERRUPTING THE SPEAKER
In some cultures it is common to pause for a couple of seconds between sentences. That doesn't mean you should jump in and take over the conversation. It can be perceived as rude, even if you're conversing with friends.
USING "YOU" STATEMENTS INSTEAD OF "I" STATEMENTS
In order to apply non-violent communication and not offend anyone, don't express statements about the other person but rather about yourself and how you perceived what they said. 
LETTING YOUR EMOTIONS DICTATE YOUR RESPONSE
Are you triggered by what your conversation partner has just expressed? The sender might have had a different intention that what your received as their message. Try to come from a neutral place when formulating your response. It might get heated if you let your emotions control what you're saying. 
FAILING TO ACCOUNT FOR CULTURAL DIFFERENCES IN COMMUNICATION
It might be due to body language (e.g. missing eye contact, touching the other person's arm or shoulder) or the way of verbally expressing themselves, that might seem strange to you. By traveling or engaging with lots of different people you will broaden your understanding of different means of communication. 
MISINTERPRETING THE MESSAGE
The message formulated by the sender ("You're loud.") is only received in the intended way if both people, the sender and the receiver, share the same principles and expectations. "Being loud" might be interpreted by the receiver as "Be quiet." but it might as well mean something else to them.
BEING INDIRECT
Always say what you want to say. If you feel, being direct is impolite, try to use I-Statements ("I feel like this is not acceptable.") or questions ("Would you say that this behavior is acceptable?")
ATTACKING CHARACTER RATHER THAN BEHAVIOR
Don't evaluate someone's character ("You're toxic.") but rather their behavior "How you're behaving is toxic." Judging someone by their character is especially harmful for the self-worth of children and teenagers. 
AVOIDING DIFFICULT CONVERSATIONS
If you postpone addressing a difficult topic with your partner or friend, it might become a more and more powerful burden on you. Some people prefer to write down their thoughts or write a letter to their partner if they don't find the courage to talk to them. 
We all make these mistakes once in a while. It might happen with your spouse, your children or with strangers. Becoming aware of these patterns will improve your communication and relationship to others. 
Ever notice any of them with yourself or the people you communicate with?
Let me know in the comments!
Alexandra 🌸
P.S.: Join my free webinar for teens and parents on useful communication strategies to avoid misunderstandings and restore family harmony.
https://learnallover.com/free-masterclass/